Titan: Your Ultimate Solution for Uninterrupted Power On-the-Go!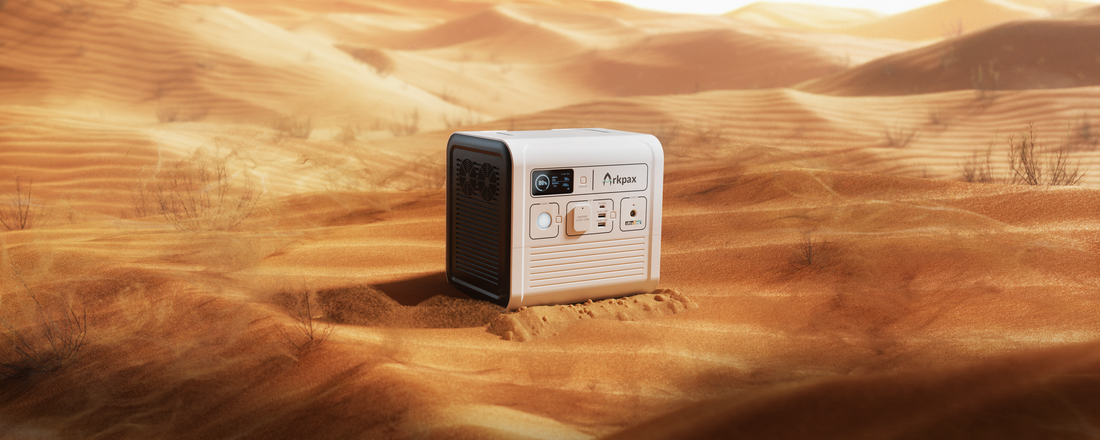 Embarking on an off-grid adventure, camping with friends, or preparing for a power outage? 
With its UltraTemp technology and large 1000Wh capacity, you'll never have to worry about running out of power again. 
And with fast recharge capabilities, you'll be up and running in no time.
The Titan is built to withstand even the toughest weather conditions, making it the go-to choice for adventurers and outdoor enthusiasts.
Plus, its compact and portable design makes it easy to take with you anywhere you go.
Don't settle for unreliable power sources - trust inTitan for all your portable power needs.
Designed for Extreme Climates
One of the standout features of the Titan is its UltraTemp technology, which allows it to withstand extreme temperatures ranging from -25°C to 50°C (-13°F to 122°F). 
This makes it a versatile choice for various scenarios, whether you're camping in the mountains, tailgating in the heat, or dealing with an emergency in extreme weather conditions.
When you and your adventurous friends plan a week-long camping trip in the Rocky Mountains. 
As you hike through the mountains, your group encounters heavy snowfall, followed by a sudden drop in temperature. 
With the Titan's UltraTemp technology, you are able to keep your devices charged and functioning throughout the entire trip, despite the challenging weather conditions. 
The Titan power station proves to be an indispensable companion for you, providing uninterrupted power on-the-go, regardless of the environment.
Trust in Titan's Advanced Safety Features
The Titan is equipped with an advanced Battery Management System (BMS) that offers 35 levels of protection, ensuring the safety and reliability of your power station. 
With the Titan, you can use it with confidence, knowing that it will keep your devices and appliances powered up safely and efficiently. 
The BMS in the Titan is designed to protect against overcharging, over-discharging, short-circuiting, and other potential hazards, making it the ultimate choice for anyone who values safety and reliability. 
Experience the Power of a 1000Wh Capacity
The Titan 1200W Portable Power Station boasts a massive 1000Wh capacity, providing long-lasting power for extended periods of time. 
And when it's time to recharge, the Titan supports flexible charging methods, including solar, AC, and car/RV charging. 
With an AC input up to 300W, and paired with 200W solar panels (optional), the power station can be fully charged in just a few hours, ensuring that you're always ready to go. 
With its powerful and efficient design, the Titan is built to keep you powered up no matter where your adventures take you. 
Trust in the Titan for all your outdoor power needs, and experience the ultimate in convenience and reliability.  
Powerful 1200W AC Output
The Titan has a total output of 1200W, with a peak output of 2400W, and Titan is designed to run a wide range of appliances and devices, making it the perfect choice for anyone who needs reliable power in even the toughest conditions. 
And with its six output ports, the Titan delivers a powerful simultaneous output of about 1400W, ensuring that all your charging and power requirements are taken care of.
Whether you need to charge your phone, power your laptop, or run a small appliance, the Titan has got you covered.
Integrated Light for Added Convenience
The Titan also features a built-in lighting system that can meet your basic lighting needs and can illuminate your camp or tent, so you don't need to carry lamps separately. This makes it a convenient and versatile choice for outdoor adventures, emergencies, and off-grid living.
Portability Meets Power
Weighing in at just 9.2kg/20lbs, and with dimensions of 28*62.2*22.7cm.
When you're planning a camping trip with your friends. 
You're excited to spend time in nature, but you also know you'll need reliable power to keep your devices charged and your appliances running. 
That's where the Titan 1200W Portable Power Station comes in.
Despite its powerful capabilities, the Titan is also portable and lightweight, making it easy to take with you on all your outdoor adventures.
You pack the Titan in your car along with your other camping gear. 
When you arrive at your campsite, you quickly set it up and plug in your devices.
The Titan has a powerful 1000Wh capacity to run most of your appliances and devices, from your phone and laptop to your camping stove and mini-fridge.
As the sun sets and the temperature drops, you turn on your portable heater and curl up in your sleeping bag. 
Thanks to the Titan's advanced Battery Management System (BMS) and UltraTemp technology, you can use it with confidence, knowing that it will keep you powered up safely and efficiently, even in the coldest weather conditions.
The next morning, you wake up to a beautiful sunrise and enjoy a wonderful morning with Titan. 
You pack up your gear and set off on your next adventure, knowing that the Titan is always ready to go wherever your travels take you. 
A Decade of Dependable Power
The Titan power station has been designed with longevity in mind, ensuring that it can withstand the test of time and provide reliable power for up to a decade. 
This impressive lifespan is a testament to the superior quality of the components and materials used in its construction, as well as the meticulous attention to detail that went into its engineering.
The Titan's long lifespan means that you won't have to worry about constantly replacing or repairing your power station, saving you time, money, and hassle in the long run. 
Plus, with its durable and rugged construction, you can rest assured that it will keep performing even in challenging environments or extreme weather conditions.
Invest in the Ultimate Portable Power Solution
The Titan 1200W Portable Power Station is designed for durability and longevity, with a lifespan of up to 10 years. 
Its advanced Battery Management System and UltraTemp technology enable it to withstand tough weather conditions, ensuring safe and efficient power for years. 
With a 1000Wh capacity and 1200W to 2400W AC output, it's perfect for camping, travel, or emergencies. 
Portable and lightweight, you can take it with you wherever you go. Invest in the Titan today for peace of mind knowing you have a reliable source of power.
Conclusion
Overall, the Titan 1200W Portable Power Station. is the ultimate portable power station for extreme climates. 
With its UltraTemp technology, 1000Wh large capacity, and reliable BMS with 35 protections, the Titan is a versatile and powerful choice for powering all your devices and appliances on the go. 
Whether you're camping, traveling, or dealing with an emergency, the Titan has got you covered.
FAQ
1. How long does it take to fully recharge the Titan?
The Titan can be fully charged using AC power in approximately 3.5 hours. However, it's important to use the correct charging equipment and follow the manufacturer's instructions for safe and efficient charging.
2. What's the operating temperature of Titan?
The Titan can operate within a temperature range of -13°F to 122°F (-25°C to 50°C) and can be stored within a range of -40°F -167°F (-40°C to 75°C).
3. Can Titan charge devices while being charged itself?
Yes, the Titan can charge devices while it is being charged itself. This is known as pass-through charging, and it allows you to charge the Titan and your devices simultaneously.
4. How many solar panels can be connected to the Titan?
The Titan supports a maximum input power of 200 watts from solar panels. The number of solar panels that can be connected to the Titan depends on the wattage of each panel. For example,  if you are using 200-watt solar panels, you can connect up to one panel.