Arkpax Official
·
·
User Guide
Top 10 Reasons to Own an IP67 Waterproof Portable Power Station in 2023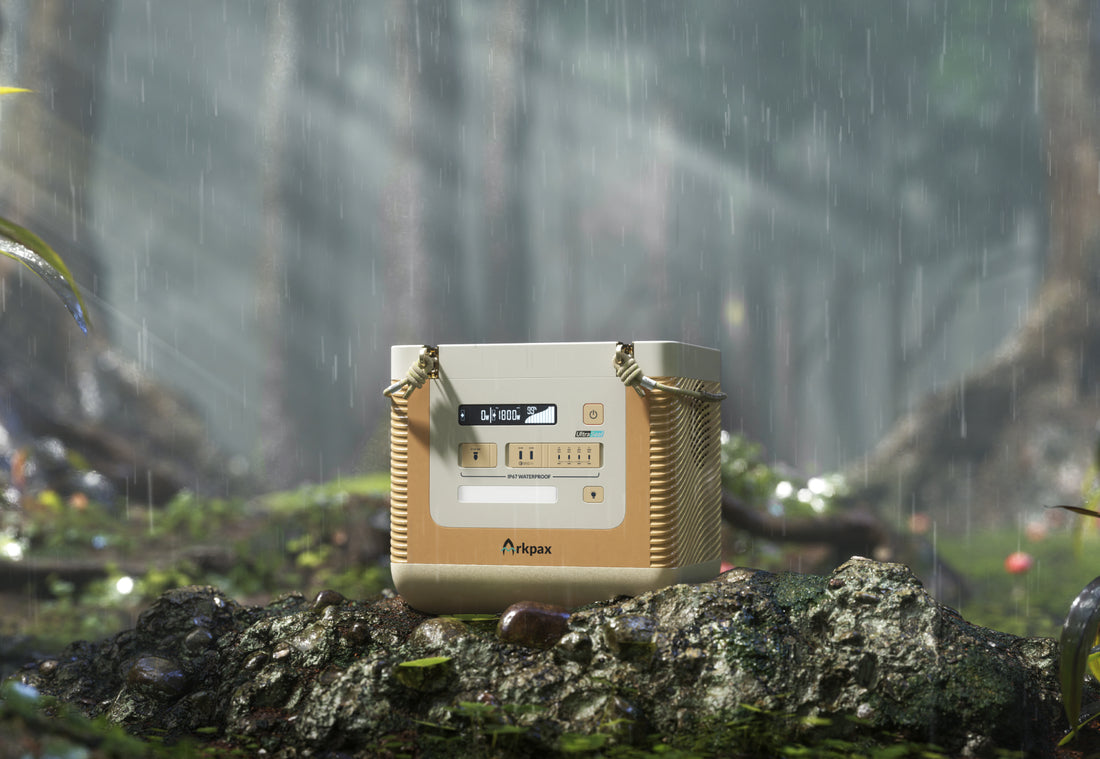 Whether you're an avid explorer of the great outdoors or a tech enthusiast looking for reliable power on the go, you know that an ounce of reliability is worth a pound of uninterrupted fun. And in a world where connection is critical, ensuring you are always powered up is essential.
Enter the Ark - the world's first IP67 Waterproof Portable Power Station from Arkpax. Designed from the inside out for the intrepid explorer, the Ark is a must-have for anyone searching for reliable power, no matter where you are.
Offering 1800W output with a 2-hour recharge capacity, you can journey confidently, knowing you are never far from a power source. But it's not just the power inside the Ark that sets this power station apart. This unique power supply is built to go with you and stick it out in any environment - from the beach to the bush.
Here are 10 of the top reasons you need to snag the Ark before your next big adventure:
1. With 1500Wh, the Ark Has Power You Need
A portable power station is only as good as the power it can offer. 
To ensure you're covered no matter where you are, the Ark offers a 1500Wh battery capacity with 1800W output and a 3300W peak output. That's enough to power up your laptop, charge your phone, or even run a blender - you're only limited by what you can plug in.


2. The World's First IP67 Power Station
Let's move to the design - the Ark was designed with state-of-the-art technology and offers IP67 dustproof and waterproof protection. That's the first in its class to offer this protection, keeping your power station dry from any weather.
IP67 is the highest rating a device can receive, and this remarkable feature is achieved using an advanced waterproof panel drainage system that keeps the power station safe from dirt, dust, and water damage. Plus, a set of waterproof fans blow away any dust or moisture build-up to keep the Ark running strong.


3. Waterproof Means Clean-Friendly
We all know about the dangers of water damage ruining your electronics. So naturally, you may be skeptical of washing off a portable power station. But what happens when you're out on an adventure and you get your power station dirty? 
The Ark has you covered! 
Its waterproof and clean-friendly design is particularly beneficial for outdoor enthusiasts, as it allows for easy maintenance even in extreme conditions. Whether you're camping, hiking, or engaging in water-based activities, the Ark provides dependable power without the worry of damage from water exposure or dirt accumulation.


4. Ark is Built For Almost Anything
Portable power stations should be just that - portable. No matter where you bring your Ark IP67 power station, you can be sure it will handle whatever the world throws its way. At Arkpax, we believe that innovation should go beyond expectations, which is why we built the Ark power station to be:
Electric Shockproof - With an electric-resistant system that keeps your power station safe from electrical shocks, you can rest assured knowing that your Ark is built to handle whatever comes its way

Internally Cooled - An internal cooling system ensures that your power station won't overheat, keeping it running smoothly and efficiently.

Electrolysis Protected - Inside the Ark is a unique electrolysis-resistant coating that helps prevent corrosion and rusting to keep your power station firing on all cylinders.


5. Built For Almost All of Your Devices
When the design team sat down to dream up the Ark, they thought through nearly every possible use case. That's why the Ark IP67 power station is built to charge any device, from phones and tablets to laptops, cameras, drones - you name it! 
Enjoy coffee or microwaved food while on the go, check emails on your laptop or tablet, and keep the lights on around the campfire - this station has the output to cover it all!


6. Go Anywhere You Want - 3 Dependable Charging Methods
You never know where you'll end up - that's the beauty of adventure, right? That doesn't mean you should be without reliable power. The Ark features three unique charging methods that make it easy to fill up on power before setting gout:
500W Solar Charging

240W Car Charging

1000W AC Charging
Never-ending power requires creative solutions. That's why the Ark power station is built to collect and store power without limits. And with a two-hour charging time, you'll never be waiting long for your next adventure.


7. UPS Ensures No Power Outages
The Ark IP67 isn't just for exploration - it's your connection to the world. The Uninterruptible Power Supply (UPS) onboard ensures that your devices stay powered for hours in the event of a power outage.
UPS works by monitoring your power status and switching to battery backup in the event of an outage. This means you can stay connected no matter what - perfect for emergency situations or long days on the road! 
Whether you need to power communications devices or life-saving technology, the Ark gives you reliable power when you need it most.


8. Lasting Power with a 10-Year Lifespan
The Ark IP67 power station is built to last - and we mean last. Designed and tested over 1,000 lifecycles, the Ark maintained an 80% original capacity when pushed to its limits. That means you can enjoy 10 years of life from your Ark IP67 - keeping you powered up for whatever you love to do.


9. Innovative BMS 35 Design
When looking to invest in a power station, you want to know it will last. That's why the Ark comes with BMS 35 - an advanced battery management system that ensures your power station is always running at peak performance. 
With its onboard intelligence, BMS 35 monitors and controls the charging process of the Ark - optimizing conditions to protect your unit while delivering superior power. 


10. It's Light Enough To Carry
With something so powerful, it must be huge!
Actually, the Ark is small enough (and light enough) to carry - measuring 13.4 X 14.8 X 10.3 inches and less than 50 pounds! And with the Hulk Belt, you can rig up the Ark and carry it with you on the go. The Hulk Belt easily complements the sleek design, making carrying this dustproof, waterproof, and shock-resistant power station a breeze.
So don't let the size fool you - The Ark packs enough juice to go wherever you do and keep all your devices powered up at every pit stop.


Grab Your Ark Today - Launching On Kickstarter Soon!
Life is meant to be lived without limits - and with the Ark IP67 power station, you can go out and do just that! Get ready to explore, relax, or work in the great outdoors without worrying about power. 
Head over to our Kickstarter page for more information, and grab your Ark today! Grab a special offer when you sign up today.
Together, let's take on the world - powered by the Ark IP67.