Meet the World's First IP67 Power Station on Kickstarter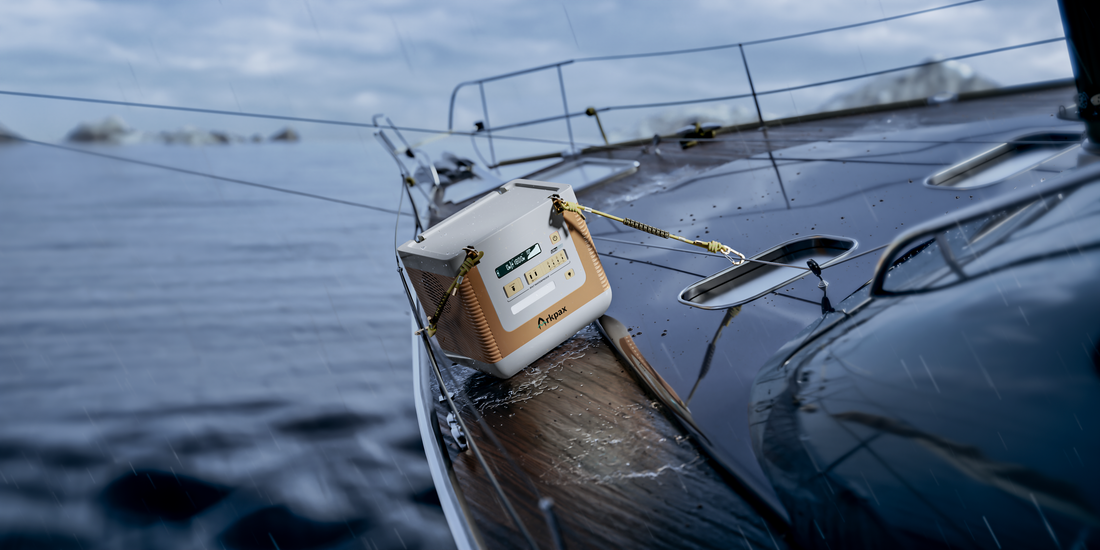 Table of contents
Why You Need A Portable Power Station
Everything you need to know about Ark
The reason why we choose Kickstarter
Your Voice Matters to Us
New to Kickstarter? Check the below purchasing guide
Shipping Timeline
FAQ
As we increasingly rely on technology for its countless advantages, uninterrupted access to power becomes crucial. With each technological breakthrough, our lives transform, and our need for dependable energy sources intensifies.
To ensure you're always prepared and connected, we highly recommend embracing a portable power station today, and stay confidently connected, anytime, anywhere.
Why You Need A Portable Power Station
Before delving into the numerous benefits of owning a portable power station, let's first explore what it is. A portable power station is a compact, adaptable, and mobile energy solution engineered to provide electricity for a variety of devices and appliances when conventional power sources are inaccessible. These powerhouses typically feature rechargeable batteries, an array of outlets (USB, AC, and DC), and occasionally solar panels for recharging.
Ideal for outdoor excursions, camping adventures, emergencies, and backup power during outages, portable power stations offer a dependable and user-friendly source of electricity. Effortlessly power crucial devices, such as smartphones, laptops, cameras, and small appliances, ensuring uninterrupted connectivity and seamless operation. Equip yourself with a portable power station and unlock the full potential of on-the-go energy.
Everything you need to know about Ark
The Ark portable power station will be launched on Kickstarter. As a source of energy during a power grid outage or for providing power in your outdoor adventure. Equipped with an NCM battery pack, the Ark features 'super-fast recharging,' reaching 80% charge in just 1.5 hours.
With solar charging support up to 400W, the Ark fully charges in approximately 4.5 hours. Additionally, you can simultaneously charge your devices and recharge the Ark for enhanced efficiency. The battery cells maintain over 80% capacity after 1,000 cycles.
Engineered to endure harsh weather conditions, the Ark boasts an UltraSeal IP67 waterproof feature and state-of-the-art technology, offering:
World's first IP67 dustproof and waterproof design
1500Wh large capacity, 1800W output, and 3300W peak surge
2-hour fast recharge and 10-year lifespan
Advanced BMS with 35 protections
Versatile outlets powering 11 devices simultaneously
Three charging methods, including 400W solar charging
UPS (Uninterruptible Power Supply) within 20ms
With unmatched versatility and the ability to power electronic devices for hours or even days, the Ark is perfect for any outdoor pursuit, such as camping, sailing, or hiking. 
That's not enough. You also can check out Ark's amazing power station in this easy-to-understand YouTube review – you won't believe its awesome capabilities! 
The reason why we choose Kickstarter
Arkpax is a company passionate about innovation, and we're excited to bring groundbreaking products like Ark to life through Kickstarter campaigns.
Ark, the world's first IP67 portable power station, represents more than just a crowdfunding project. Creating a cutting-edge product like Ark requires substantial investment in R&D and materials, and we strive to gauge customer interest before advancing.
Kickstarter empowers us to directly evaluate customer demand and fine-tune our product based on pre-production feedback. With successful funding, we'll jump-start mass production, rewarding early bird backers with an amazing 50% off.
By selecting Kickstarter for our launch, we cultivate a unique bond with you, enabling us to actively incorporate your input throughout the crowdfunding process. Your priceless feedback will guide us in honing and enhancing Ark, ensuring it aligns with your preferences and exceeds your expectations.
Your trust and support fuel our determination to develop unparalleled products. We warmly invite you to take part in Ark's realization – back our campaign and assume a crucial role in this customer-driven innovation. 
Together, let's ignite a portable power revolution that genuinely prioritizes your needs and desires.
Your Voice Matters to Us
At Arkpax, your feedback is the driving force behind our ongoing efforts to optimize our products and services, which is why we've chosen Kickstarter as the platform to unveil our revolutionary new product. This platform enables us to establish a meaningful connection and foster open communication with you, our esteemed customers.
Embark on this exciting journey with us as we launch Ark via Kickstarter, and let's collaborate to redefine the landscape of portable power solutions. We earnestly encourage you to share your thoughts, questions, or suggestions with us at info@arkpax.com. 
New to Kickstarter? Check the below purchasing guide
Get Ready: Ark - World's First IP67 Waterproof Portable Power Station Launches on Kickstarter.
For those in our community who may be new to Kickstarter, refer to the image below for a step-by-step guide to the purchasing process.
Additional pointers to keep in mind:
Your card will be charged for the amount of your chosen reward when the campaign concludes.

Payment methods: Kickstarter accepts debit or credit cards associated with Visa, Discover, JCB, MasterCard, UnionPay, or American Express. For US-based projects, Discover, UnionPay, and JCB cards are currently accepted.

Please note that Paypal, Maestro and VISA Electron cards are NOT accepted. 

If using a prepaid credit card, ensure it has a value of at least $1 more than your pledge amount.
Shipping Timeline
We're excited to share our estimated shipping timeline:
October
USA and Canada
November
Japan, Austria, Bulgaria, Croatia, Denmark, France, Estonia, Finland, Germany, Greece, Hungary, Italy, Latvia, Luxembourg, Netherlands, Portugal, Romania, Slovenia, Spain, Sweden
December
United Kingdom, Ireland, Singapore, Nigeria, Hong Kong
Launch Time:
⏰ Official Launch: July 6th at 8 am PST / 11 am EST ⏰
Special Limited-Time Offer for early birds backers:
🌟 Ark Portable Power Station: Super Early Bird Price $899 (50% OFF)
🌟 Ark Solar Panel: Super Early Bird Price $199 (50% OFF)
🌟 Ark Portable Power Station + Solar Panel Bundle: Super Early Bird Price $999 (55% OFF)
Shipping countries:
United States, Hong Kong, Japan, Singapore, Canada, Austria, United Kingdom, Bulgaria, Croatia, Denmark, Ireland, France, Estonia, Finland, Germany, Greece, Nigeria, Hungary, Italy, Latvia, Luxembourg, Netherlands, Portugal, Romania, Slovenia, Spain, Sweden.
Stay tuned for the official launch and click the link below to receive a launch day notification!
https://www.kickstarter.com/projects/arkpax-ark/ark-worlds-first-ip67-waterproof-portable-power-station
FAQ
1. It's my first time pledging on Kickstarter, can you help to confirm if my pledge is successful?
Certainly! To confirm your successful pledge on Kickstarter, follow these steps:
After backing our project, you will receive a confirmation email from Kickstarter.
Additionally, you'll get an inbox message for further confirmation of your successful backing.
Remember, you won't be charged or asked to provide any personal information until our campaign concludes successfully.
By following these steps, you can easily verify if your pledge on Kickstarter is successful.
2. How can I pledge?
For more details, please click on the link below and read the official Kickstarter guide to get started. https://help.kickstarter.com/hc/en-us/articles/115005066393-How-do-I-pledge-
3. How do I provide my shipping address and reward details?
Upon the completion of our project, we'll send you a survey to collect the essential information needed to fulfill your rewards. After submitting the survey, you'll receive a confirmation email containing a copy of your responses. For more details, please visit the following link: Kickstarter Help - Providing Shipping Address and Reward Details
4. Can I use third-party solar panels?
You can use third-party solar panels to recharge if the solar panel is compatible with the XT60 interface, with a maximum power output of 400W.
5. Will it be able to charge during use?
Yes, Ark's UPS feature enables charging while in use, but with a maximum output of 1000W. If the output is 1000W, the battery won't charge. If the output is lower, the remaining power will be used for charging, affecting the charging time.