Embracing the Great Outdoors in Style: Your Comprehensive Guide to Glamping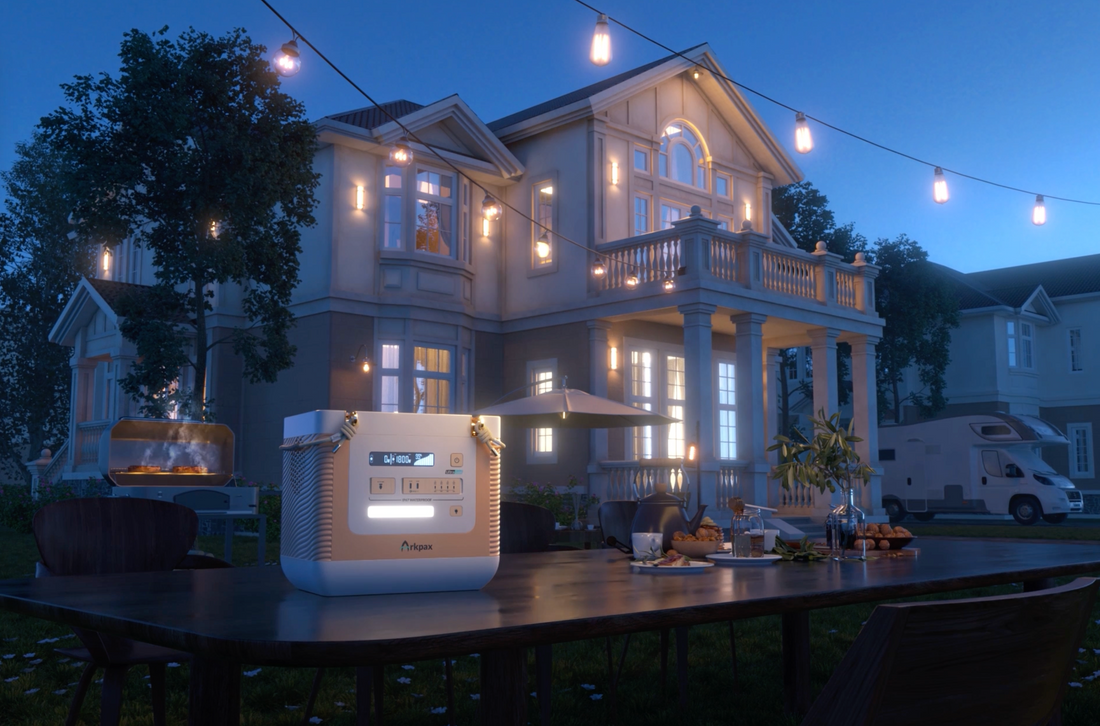 Introduction
The term 'glamping' is a fusion of two words: glamour and camping. It's a unique way to experience the great outdoors without compromising on comfort and luxury. Unlike traditional camping, glamping is about enjoying nature's beauty with the amenities and comforts of home. This guide will walk you through the essentials of glamping, focusing on the must-have gear, types of glamping, and how to prepare for a truly unforgettable glamping experience. One of the recommended pieces of glamping gear that we'll highlight is the Ark Portable Power Station, a versatile and reliable power source that is ideal for your glamping adventure.
What is Glamping?
Glamping is a travel trend that combines the fun and excitement of camping with the convenience and luxury of a hotel or vacation rental. With glamping, you don't have to 'rough it' to enjoy an immersive outdoor experience. Glamping accommodations come in various forms, from luxury tents and yurts to treehouses and cabins, all designed to provide a comfortable and stylish outdoor living experience.
Glamping Gear Essentials
To have a successful glamping trip, you need the right gear. While the specific items may vary based on your personal preference and the nature of your trip, here are some essentials:
1. Luxurious Shelter
The shelter you choose sets the tone for your glamping experience. Whether you opt for a high-end tent with ample space or a unique option like a yurt, your shelter should offer comfort and protection from the elements. Many luxury tents come with features like multiple rooms, large windows, and even an electrical access port for powering your devices.
2. Comfortable Bedding
Forget the sleeping bag. Glamping calls for luxurious bedding. Invest in a quality air mattress or camping cot, plush pillows, and cozy blankets or comforters. A foam mattress topper can add an extra layer of comfort.
3. Gourmet Kitchen Setup
One of the joys of glamping is the ability to cook and enjoy gourmet meals outdoors. A portable stove or grill, cooler or portable refrigerator, cooking utensils, and a table for meal prep are essential. Don't forget your favorite seasonings and ingredients!
4. Portable Power Station
A reliable power source is crucial for glamping, and this is where the Ark Portable Power Station shines. This compact and lightweight device can power everything from lights and fans to laptops and small appliances. It's easy to recharge via solar panels, making it an eco-friendly choice for your glamping trip.
The Ark 1800W is the world's first IP67 dustproof and waterproof portable power station. This advanced protection, achieved using a waterproof panel drainage system and waterproof fans, ensures your power station remains functional and safe, even amidst sea spray and sudden showers.
Types of Glamping
Glamping offers a myriad of options to suit every taste. Here are some of the most popular types:
1. Luxury Tents
Luxury tents are the classic choice for glampers. They offer a traditional camping feel but with added luxuries like comfortable beds, electricity, and sometimes even air conditioning or heating.
2. Yurts
Originally used by nomads in Central Asia, yurts offer a unique and spacious glamping experience. They are weather-resistant and often come equipped with luxurious amenities like full kitchens, bathrooms, and comfortable beds.
3. Treehouses
For a truly unique glamping experience, consider a treehouse. These elevated structures offer fantastic views and a magical setting for your outdoor adventure.
4. Cabins
Cabins are ideal for those who prefer a more solid structure. They range from rustic to luxurious, with many offering amenities like full kitchens, bathrooms, separate bedrooms, and cozy living spaces.
Preparing for Your Glamping Adventure
Successful glamping requires thoughtful preparation. This involves selecting an ideal location, planning your meals, smart packing, practicing sustainable camping, and being ready for weather changes.
1. Choose the Right Location
The location significantly influences your glamping experience. A number of factors are important to consider when choosing your destination:
Amenities: Some glamping sites offer fully-equipped accommodations with pre-set tents, beds, and kitchen facilities. Others might be more basic, requiring you to bring your own gear. Make sure to research what is provided.

Surroundings: Are you looking for a beachfront, a forest, a desert, or a mountain setting? The environment will dictate your activities and the wildlife you might encounter.

Activities: Look for locations that offer activities you're interested in, such as hiking, fishing, wildlife viewing, or canoeing.

Accessibility: Consider how easy it is to get to the site. If you're bringing a lot of gear, you might want a site you can drive to.
2. Plan Your Meals
Glamping allows for more elaborate meals than traditional camping. Consider meals that can be prepped at home and cooked at the site. Remember to bring cooking utensils, a portable stove or grill, and cooler or portable refrigerator. Also, pack enough water for drinking, cooking, and cleaning.
3. Pack Smart
Packing for glamping is a balancing act. You want to bring enough to be comfortable, but not so much that it becomes burdensome. Essentials include:
Clothing: Pack for all types of weather. Even in summer, nights can be cool. Don't forget swimwear, hiking boots, and a hat for sun protection.

Personal items: Bring toiletries, towels, and any medication you need. Consider packing items such as sunscreen, bug spray, and a first aid kit.

Gear: Besides your tent and bedding, you might want to bring chairs, an outdoor table, lighting, and cooking equipment. A portable power station, like the Ark Portable Power Station, can keep your devices charged.
4. Respect Nature
Adopt the "leave no trace" principles. Dispose of waste properly, respect wildlife, and minimize the impact of your campfire. Remember, you're a guest in nature.
5. Prepare for the Weather
Check the weather forecast before you leave and prepare accordingly. If rain is expected, make sure your tent is waterproof and you have plenty of warm, dry clothing. If it's going to be hot, bring a sunshade, plenty of water, and sunblock.
Finalizing details in advance will ensure that your glamping experience is relaxing and enjoyable.
Conclusion
Glamping offers the perfect blend of nature and luxury. Whether you're a seasoned camper looking for a more comfortable experience or a novice eager to try outdoor living, glamping is a fantastic option. With the right gear, like the Ark Portable Power Station, you can enjoy the great outdoors without giving up the comforts of home. Happy glamping!