Arkpax Announces Crowdfunding Projects for Innovative IP67 Waterproof & Extreme Temperature Portable Power Stations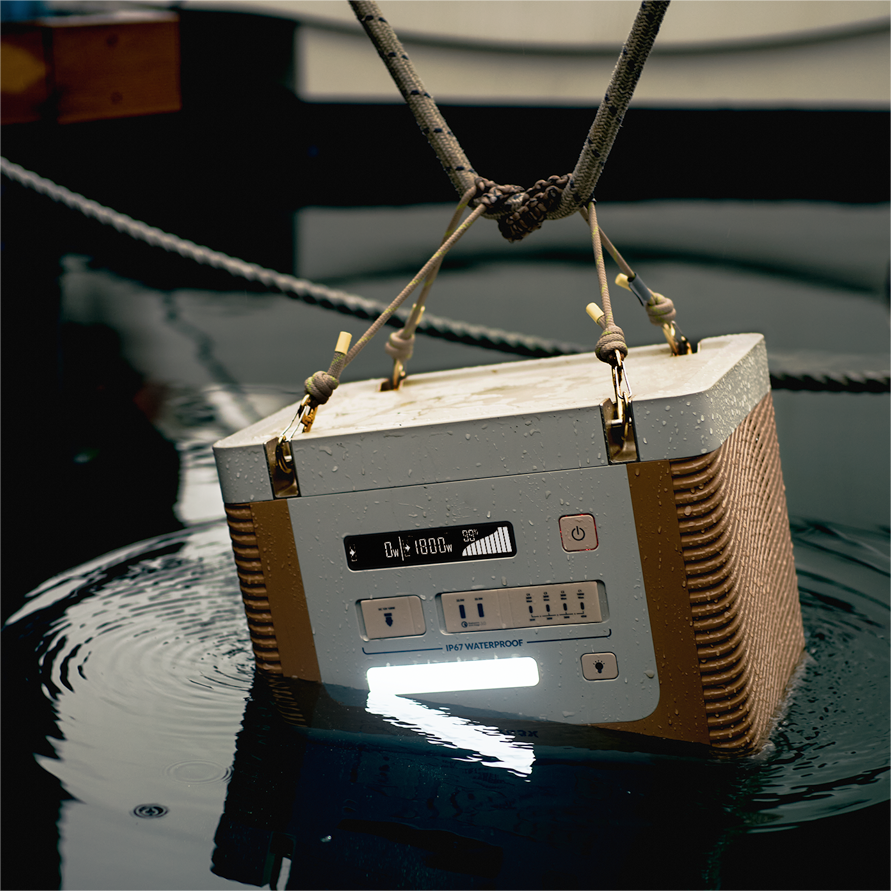 Ushering in a new era of portable power stations, both of these highly anticipated products are creating a buzz in the industry.
SAN DIEGO, CALIFORNIA, UNITED STATES, May 26, 2023— Arkpax is pleased to announce the upcoming launch of its two latest innovations.
Both products will be showcased on the Kickstarter and Indiegogo crowdfunding platforms. Those interested are invited to sign up in order to secure a special offer.
Marketed under the Arkpax Brand of products, the Ark and the Titan are in keeping with the company's mission to provide consumers with clean, affordable energy in the form of convenient, durable and stylish portable power solutions.
"Most people are aware that they are spending too much money for energy and that fossil fuels are damaging the planet," says an Arkpax spokesperson. "At Arkpax, we're transforming energy economics by offering reliable, sustainable power for all—because we believe clean energy should be a right, not a privilege."
Ark: the world's first IP67 Waterproof Portable Power Station
The Ark is soon to be launched on Kickstarter. Designed to withstand severe weather conditions thanks to its UltraSeal IP67 waterproof feature, this portable power station is equipped with state-of-the-art technology and offers a number of features:
IP67 Dustproof and waterproof

1500Wh large capacity, 1800W output and 3300W peak surge

2H Fast recharge and 10 years lifespan

Advanced BMS with 35 protections.

Versatile outlets that can power 11 devices simultaneously

Three charging methods including 400W solar charging

A sleek, modern, aesthetic design

And a lot more!
With superb versatility and its ability to keep electronic devices running for hours, or even days, at a time, the Ark is perfect for any outdoor activity, including camping, sailing, or hiking.
To find out more about the Ark, or to sign up for a special offer, visit the https://ark.arkpax.com/.
Titan: the Ultimate Portable Power Station for Extreme Temperatures
The Titan will be showcased on Indiegogo. With its UltraTemp feature, this power station has the ability to withstand extreme temperatures, making it a great choice for harsh environments. With six output ports, Titan can deliver an output of 1200W. It also features a powerful light, enabling users to illuminate their campsite, tent or work area with ease. You can learn its features as follows:
High Power Output
Titan provides an impressive 1200W to 2400W AC output, ensuring you have enough power to keep your devices running efficiently.
Large Capacity 
With a massive 1000Wh capacity, Titan ensures you have ample energy to power your devices for extended periods.
Unbeatable Durability
Titan's UltraTemp Technology ensures long-lasting performance in even the harshest weather conditions.
Impressive Operating Temperature Range
Designed to work in extreme temperatures, Titan operates flawlessly between -25°C to 50°C (-13°F to 122°F).
Built for Tough Climates
Titan's robust construction and cutting-edge technology make it the ideal portable power station for challenging environments.
Don't let extreme temperatures interrupt your power supply. The Arkpax Titan with UltraTemp technology ensures your power station will keep running, no matter the weather.
For more information, or to sign up for the special offer on this product, visit https://titan.arkpax.com/.
About Arkpax Company
Founded in 1998, TWS Technology is a dynamic, global industry leader focused on energy storage and rechargeable battery solutions. When TWS Technology entered the energy market, the lithium-ion battery was still a brand-new piece of technology. 
TWS embraced their role as pioneers, believing wholeheartedly that lithium-ion batteries were the way of the future. 


Over the course of 25 years, TWS dug deep into the latest breakthroughs in science and technology, insisting on greater efficiency, lower costs, more durability, and widespread access. TWS's goal was simple: they wanted clean, portable, long-lasting energy, to help build the future that they believed was possible. 
TWS has established Arkpax with all these values in mind–in the belief that innovation, efficiency, convenience, durability and sustainability are solutions that the energy market needs.