1. Unprecedented IP67 Protection
Fishing or boating often exposes your gear to water and dust. The Ark 1800W, with its IP67 rating, ensures your power supply won't be compromised due to accidental splashes, rain, or dust.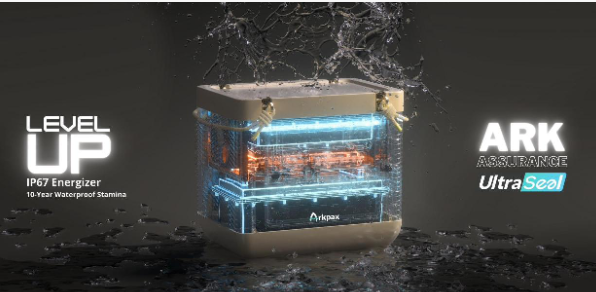 2. The Power You Need, When You Need It
Fishing trips often require various electronic devices. With a 1500Wh battery capacity with an 1800W output and peaks at 3300W, Ark 1800W can power your bait boat, radio communication devices, GPS, lighting, and even an electric grill for your catch!
3. Clean-Friendly Design
After a day on the beach or a fishing trip, your gear can get dirty. The Ark 1800W's waterproof design allows easy cleaning without the worry of water or dirt damage.
4. Built to Withstand the Elements
In outdoor scenarios, your gear may be exposed to electric shocks, heat, and corrosive elements. The Ark 1800W is electric shockproof, internally cooled, and electrolysis protected, ensuring it can withstand these harsh conditions.
5. Compatibility with Your Devices
Whether you need to keep your drone charged for aerial fishing, your camera powered for capturing those perfect moments, or your phone charged for emergencies, the Ark 1800W has you covered.
6. Three Reliable Charging Methods
On a long fishing trip, you might need to recharge your power station. The Ark 1800W can be charged through 500W solar charging (perfect for sunny days by the water), 240W car charging (while you're on the move), and 1000W AC charging (when you have access to a power outlet).
7. Uninterruptible Power Supply
In case of power outages during storms or other emergencies while you're on your boat, the Ark 1800W's onboard Uninterruptible Power Supply (UPS) ensures your navigation and communication devices stay powered.
8. Lasting Power
For regular fishing or boating enthusiasts, the Ark 1800W offers up to 10 years of reliable power supply, ensuring you won't need to replace your power station for a decade.
9. Advanced BMS 35 Technology
The Ark 1800W comes equipped with BMS 35, optimizing charging conditions and ensuring the longevity of your power station. This makes it ideal for those long fishing trips where reliable and efficient power is essential.
In conclusion, the Ark 1800W offers unparalleled power delivery, protection, and reliability, making it an essential companion for any fishing expedition.
Media Contact
Company Name: TWS Technology LLC
Contact Person: Olivia Stone
Email: Send Email
Country: United States
Website: https://arkpax.com/